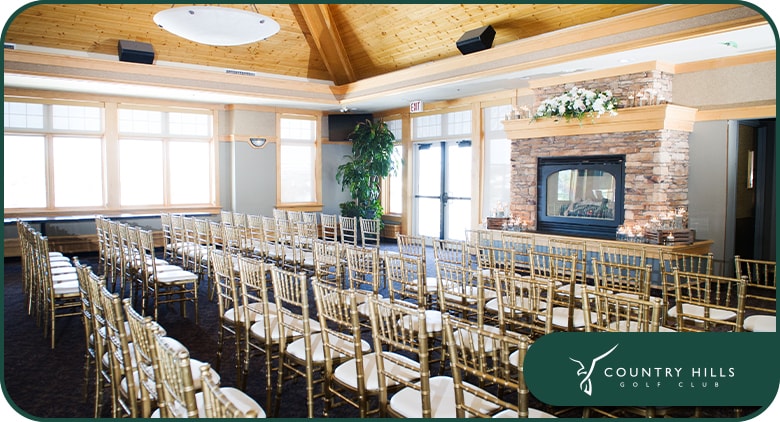 Enjoy the world-class facilities of the Country Hills Golf Club as the venue for all of your special events: weddings, birthdays, graduations, and anniversaries, private organization gatherings, corporate affairs, and golf tournaments. Our team of Event & Experience specialists, Red Seal chefs, food and beverage managers, professional hospitality staff, and PGA Canada golf pros are poised to guide you through from planning to execution and beyond so that you can enjoy your event, stress-free, but confident that your event is reflective of the quality and memorable experience you want to give your guests. Our event services are available for members and non-members alike. Choose the course and clubhouse amenities at Country Hills Golf Club to make your next event an unforgettable celebration.
The Perfect Venue For Your Event
From intimate dinners to elaborate wedding celebrations and every festive occasion in between, the Country Hills Golf Club has the spaces and the team to make it happen.
The Ridge Room. This is perfect for weddings, conferences, and other special events. Located on the top floor of our clubhouse, the Ridge Room boasts amazing views of the courses, Nose Hill, and the city skyline. Take the party outside to an adjacent patio with seating up to 44 people.
The Links Lounge and The Spike Lounge. Our restaurant spaces are available for private functions too. Enjoy the casual atmosphere of the lower-level dining room of the Spike Lounge with indoor and patio seating. Or leverage the breathtaking views and fine-dining ambience of the upper-level Links Lounge. Both spaces offer menu options of mouth-watering culinary excellence.
The Boardroom. Keep it professional, yet comfortable in the Boardroom at Country Hills Golf Club. This space is perfect for hosting your corporate events such as conferences, annual meetings, and workshops. Cater your corporate event with the same delicious culinary offerings available to our members. Enjoy our beautiful facilities and meticulous service as well as our attention to the practicalities such as digital capabilities and A/V equipment.
A Different Kind Of Membership
Invest in yourself, invest in your family, and invest in your favourite game with an Equity Membership at Country Hills Golf Club. Your membership grants you priority booking and unlimited play on two of Calgary's most beautifully designed courses. Nestled into the cliff's edge at Sandstone Valley, Country Hills Golf Club proves that membership has its rewards. To explore our membership packages and all the benefits of our club, contact Membership Services at 1-403-226-7789.
Golf Tournaments For Everyone.
Country Hills Golf Club knows golf. Our team of event specialists and PGA Canada Golf Professionals can curate a range of tournament models from ultra-competitive to more fun-focused and casual. Here are just some of the features we are able to provide for your tournament booking:
36 Holes Of Championship Golf. Two 18-hole courses of world-class golfing perfect for all ages and all levels of expertise. Your participants can challenge themselves or just enjoy their time on the links.
GPS-Enabled Golf Carts. Everyone knows that driving the cart is half the fun! Treat your participants with the best carting experience available.
Professional Planning Services. Take the reins or be completely hands off. Our tournament staff can partner with your team to curate an amazing tournament experience or we can take control from tee off to the 19th hole so you can relax and enjoy yourself too.
Catered Culinary Excellence. Our food and beverage team and our renowned Red Seal chefs will provide your guests with an elevated dining and entertainment experience that goes above and beyond expectation.
Customized Corporate Branding. Make sure your event is branded right by partnering with our Corporate Merchandising pros. From sourcing to customizing, our merchandising team can make sure your apparel, gear, prizes, gifts, and swag identify your members and promote the purpose of your tournament. Connect with Corporate Merchandising here.
*Please mind our dress code. We're not pretentious, but we are a private club. Golf attire is required for the course. We welcome your nice denim and cowboy boots in the clubhouse.
A New Standard For Golfing Excellence
Country Hills Golf Course offers a remarkable golfing experience right in the heart of Calgary. But you don't have to take our word for it. Here is what some of the city's most passionate and dedicated golf aficionados have to say about the courses, the facilities, the amenities, and the adventure awaiting you at Country Hills Golf Club.
Spectacular Setting. Beautiful Facilities. Flawless Service.
Close to the airport for out-of-town guests and easily accessible via major thoroughfares from all quadrants of the city, Country Hills Golf Club is the ideal location for your next event. Take advantage of our location amid the rising, west-facing cliffs of the Sandstone Valley and your guests will enjoy spectacular views of the Calgary cityscape and the awe-inspiring sunsets over the foothills. For flawless events, culinary excellence, and impeccable hosting services, contact Country Hills Golf Club for your next special occasion, corporate event, or golf tournament. Call our Events & Experience Manager at 1-403-226-7765.
The Country Hills Golf Club Difference
With two first-class championship courses (The Ridge Course and The Talons Course), state-of-the-art practice facilities, picturesque locale, top-shelf culinary and beverage experiences, luxury clubhouse amenities, options for membership, and access to our expert corporate merchandise specialists, Country Hills Golf Club has everything you need and more to satisfy your craving for the most elevated golfing adventure your whole family can enjoy.
Both members and non-members are welcome to book their corporate events, special occasions, and golf tournaments at Country Hills Golf Club.
Every event is unique. Let us provide you with a custom quote for your event.
Connect with our Events & Experience Manager at 1-403-226-7765 to share your vision for the ideal event.
We can host weddings, banquets, parties, meetings, fundraisers, and more. We have an amazing team of venue managers, Event & Experience specialists, Red Seal chefs, food and beverage managers, professional hospitality staff, and PGA Canada golf pros poised to guide you through from planning to execution and beyond so that you can enjoy your event-stress free. If you are an avid golfer of any age and any skill level, we want you. If you love the game and plan your workday around your tee time, we want you. If the first day of the season is more exciting to you than Christmas, we want you. Join our inclusive community of people as passionate about the game of golf as you and enjoy the exclusive benefits that a membership at Country Hills Golf Club affords you.
Call 1-403-226-7789 to explore your options for membership now.