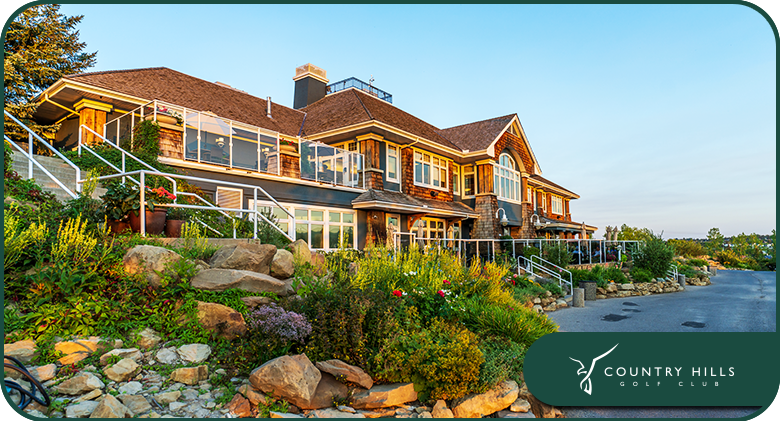 Completed in 1999, the 36,000 square foot clubhouse at Country Hills Golf Club is the centre of our community and the starting and ending place for every golf experience at the club. This facility boasts numerous event and gathering spaces, well-appointed locker room facilities, a PGA Pro-staffed retail space and fitting centre, state-of-the-art practice facilities, and world-class dining experiences. Members and invited guests enjoy exclusive access to all of the clubhouse amenities. Special and corporate event bookings and tournament bookings are open to our wider city and provincial community. The Country Hills Clubhouse promises luxury amenities and a space that feels like home.
Members: Eat Your Heart Out.
The Country Hills Golf Club Offers two unique dining experiences for members and guests.
Kick Back In The Spike Lounge. Located on the ground level of our clubhouse, the Spike Lounge provides a casual opportunity to indulge in our excellent food and beverage options. We offer a variety of grab-and-go options and the Spike Lounge functions as a convenient halfway house for the Ridge Course. Indoor and outdoor patio seatings are available. The Spike Lounge also provides the same grab-and-go option to the Talons Halfway.
Upscale Dining, Familiar Faces In The Links Lounge. Panoramic views of the breathtaking Nose Hill area, the Country Hills Golf Club courses, and the spectacular skyline of downtown Calgary are the perfect accompaniment to the elevated culinary offerings at the Links Lounge. The menu includes tried-and-true traditional favourites and seasonally inspired, innovative takes on local ingredients. Enjoy our indoor and patio seating on the top floor of the clubhouse at the Links Lounge.
Both the Spike Lounge and the Links Lounge menus are curated by Red Seal Chefs and staffed with professional, friendly hospitality experts who aim to make your experience comfortable, familiar, and extraordinary. We offer dining to members and invited guests 7 days a week and host special member culinary events throughout the season.
A Different Kind Of Membership
Invest in yourself, invest in your family, and invest in your favourite game with an Equity Membership at Country Hills Golf Club. Your membership grants you priority booking and unlimited play on two of Calgary's most beautifully designed courses. Nestled into the cliff's edge at Sandstone Valley, Country Hills Golf Club proves that membership has its rewards. To explore our membership packages and all the benefits of our club, contact Membership Services at 1-403-226-7789.
In addition to the world-class dining and beverage opportunities available at the Spike Lounge and the Links Lounge, the Country Hills Clubhouse offers an abundance of luxury amenities for our members, their families, and their guests to enjoy.
Cutting-Edge Practice Facilities. Try out our four state-of-the-art Foresight Golf Simulators, power through a bucket of balls at our full, two-way driving range, and perfect your short-game strategies with three putting greens, a chipping area, and two sand bunkers at the Country Hills Golf Club practice facilities.
Clean And Comfortable Locker Rooms. Enjoy a steam and a shower post-game in our comfortable and classy locker room facilities. Complimentary towel services, luxury toiletries, and shoe cleaning are yours for the "par"-taking!
Shop Like A Pro. Stock up on everything you need to play your best game at the Country Hills Golf Club Pro Shop. Browse our brand partners Nike, Adidas, Under Armour, PING, Tribal, Linksoul, and more and strut out to the tee box looking like a real pro.
Swing Like A Pro. Our Nest Fitting Centre promises the most personalized and innovative insight when matching you with your perfect club. Using the newest technologies, we can analyze swing, launch, and ball flight to outfit you with the best club for you. Don't forget to ask your fitting pro about our selection of demo golf clubs to help you make the right choice.
Shoot The Breeze With Our Team Of PGA Pros. Country Hills Golf Club PGA Professional staff offer a variety of instruction programs for all ages and abilities. We also offer professional repair services on-site. Our pros are passionate about the game and are available to advise on equipment and technique whenever you can catch them.
A New Standard For Golfing Excellence
Country Hills Golf Course offers a remarkable golfing experience right in the heart of Calgary. But you don't have to take our word for it. Here is what some of the city's most passionate and dedicated golf aficionados have to say about the courses, the facilities, the amenities, and the adventure awaiting you at Country Hills Golf Club.
Start With Fore. End With Aaaahhh.
The focus of Country Hills Golf Club is always the golf. But as we continue to build our community around the love of golf, we also believe that we all deserve a little luxury and pampering as we go. The benefits of membership at Country Hills Golf Club are plentiful and we are pleased to offer our member community an elevated and memorable golf experience. Explore more about your options for membership and the two championship courses that are the basis for all we do.
Contact our Membership Manager at 1-403-226-7789.
The Country Hills Golf Club Difference
With two first-class championship courses (The Ridge Course and The Talons Course), state-of-the-art practice facilities, picturesque locale, top-shelf culinary and beverage experiences, luxury clubhouse amenities, options for membership, and access to our expert corporate merchandise specialists, Country Hills Golf Club has everything you need and more to satisfy your craving for the most elevated golfing adventure your whole family can enjoy.
Members and invited guests can choose between laid-back dining at the Spike Lounge, or upscale, comfort at the Links Lounge. Both locations offer delicious and innovative menu choices and elevated culinary experiences.
We certainly do. We love to support our local community and we offer a variety of international and local craft beers and spirits. Ask your server what's on tap today.
The Spike Lounge and the Links lounge are open for members and invited guests only. If you are not a member, you can still book private events, meetings, and tournaments and take advantage of our amazing chefs and beautiful event facilities. Contact our Event & Experience Manager at 1-403-226-7765. If you are an avid golfer of any age and any skill level, we want you. If you love the game and plan your workday around your tee time, we want you. If the first day of the season is more exciting to you than Christmas, we want you. Join our inclusive community of people as passionate about the game of golf as you and enjoy the exclusive benefits that a membership at Country Hills Golf Club affords you.
Call 1-403-226-7789 to explore your options for membership now.